5.14: Unicoi 3 Conglomerate
Last updated
Page ID

18226
\( \newcommand{\vecs}[1]{\overset { \scriptstyle \rightharpoonup} {\mathbf{#1}} } \) \( \newcommand{\vecd}[1]{\overset{-\!-\!\rightharpoonup}{\vphantom{a}\smash {#1}}} \)\(\newcommand{\id}{\mathrm{id}}\) \( \newcommand{\Span}{\mathrm{span}}\) \( \newcommand{\kernel}{\mathrm{null}\,}\) \( \newcommand{\range}{\mathrm{range}\,}\) \( \newcommand{\RealPart}{\mathrm{Re}}\) \( \newcommand{\ImaginaryPart}{\mathrm{Im}}\) \( \newcommand{\Argument}{\mathrm{Arg}}\) \( \newcommand{\norm}[1]{\| #1 \|}\) \( \newcommand{\inner}[2]{\langle #1, #2 \rangle}\) \( \newcommand{\Span}{\mathrm{span}}\) \(\newcommand{\id}{\mathrm{id}}\) \( \newcommand{\Span}{\mathrm{span}}\) \( \newcommand{\kernel}{\mathrm{null}\,}\) \( \newcommand{\range}{\mathrm{range}\,}\) \( \newcommand{\RealPart}{\mathrm{Re}}\) \( \newcommand{\ImaginaryPart}{\mathrm{Im}}\) \( \newcommand{\Argument}{\mathrm{Arg}}\) \( \newcommand{\norm}[1]{\| #1 \|}\) \( \newcommand{\inner}[2]{\langle #1, #2 \rangle}\) \( \newcommand{\Span}{\mathrm{span}}\)\(\newcommand{\AA}{\unicode[.8,0]{x212B}}\)
OUTCROP AND HAND SAMPLE PHOTOS AND VIDEOS
There are at least two conglomerate beds in this outcrop. These images show the conglomerate with the larger (cm-sized) clast size.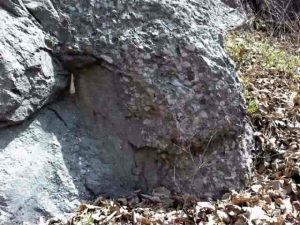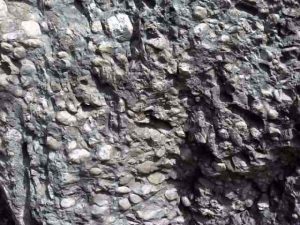 The videos below show both the larger and smaller clast sizes.
Thin Section Photos and Videos
1st = plane polarized light; 2nd = cross-polarized light.
The thin section images are from the smaller clast size conglomerate. This close-up shows clasts of quartzite (top), k-feldspar/granite (bottom right), and shale (bottom left). There are also volcanic clasts in these rocks. The volcanics are from the Mount Rogers complex – remember this from the history of magmatism in VA?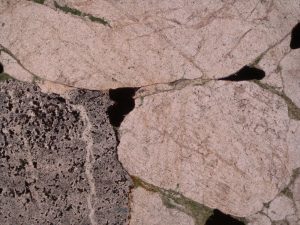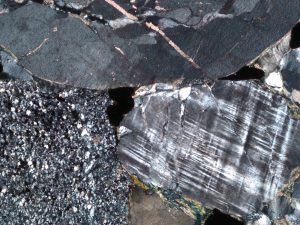 Entire thin section scan. 1st = ppl; 2nd = xpl.
The shale clast is on the left – it's the darker clast. Other rounded clasts can be seen in ppl and xpl.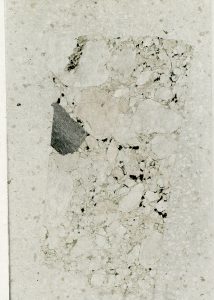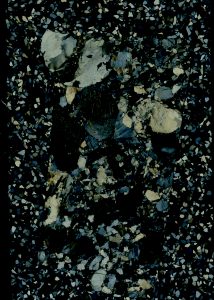 Media Attributions
Unicoi 3 Conglomerate
Unicoi 3 Conglomerate 2
Unicoi3 ppl 4x
Unicoi3 xpl 4x
Unicoi 3 ppl
Unicoi 3 xpl